The Cheetah Chase is one of the most unique 5K events in Michigan and a favorite at Binder Park Zoo! Runners of all ages and abilities complete a 5K covering two continents—sprinting all the way to "Africa" and back. Kangaroos, wolves, and giraffe will be on-hand to watch participants race through the Zoo, whether in the 5K Gazelle Gallop of the 5K Sloth Walk. 
About This Event
This 5K course has a variety of surfaces including asphalt, brick, boardwalk, crushed rock, and grass. There is a combination of up hills, down hills, tight turns and flat stretches throughout the course. Native Michigan woodlands are in abundance along with a wide variety of zoo animals to catch your eye. Highlights also include panoramic views of the African savanna with herds of giraffe, zebra, antelope, lions and more. This is a truly unique venue for a 5K event.
Pre-Registration
Pre-register online at www.binderparkzoo.org/5k or complete a registration form to enter the Binder Park Zoo Cheetah Chase event of your choice.
Online registration will close at 11:59pm EST on Thursday, June 20, 2019.
Mail-in registrations must be postmarked no later than June 17, 2019. Day of event registrations will be accepted for the race fee of  $50.
** Day of Registration will be $50 **
Early Packet Pickup
Reduce your time in line with early packet pick-up.
From 4pm to 6pm on Friday, June 21, we will have early packet pick-up in the Cross Administration Building (Zoo Office).
Participants may also register on Friday during Friday packet pickup.
Events and Times
6:45am to 7:45am - Registration.
7:30am - Gates to zoo entrance closed to prep for race - be here before 7:30 to park in zoo lot.
8:00am - Gazelle Gallop (5K Run), Sloth Walk (5K Walk). Post Race Cool Down After The Race.
Last participant must cross the finish line by 9:30am.
Shuttles from Harper Creek High School will run from 6:00am until 11:00am.
Beer Garden – open during event and also on zoo grounds all day
Registration Fees
All participants in both 5K events will receive a free day-of admission pass to the zoo and their first Bell's brew for free (21 and up only). Race day registrations are not guaranteed Cheetah Chase shirt.
Gazelle Gallop (5K Run) - $40 (Registration on Race Day - $50)
Sloth Walk (5K Walk) - $40 (Registration on Race Day - $50)
The $40 registration fee includes a Cheetah Chase Technical Tee Shirt.
Kalamazoo Area Runners/Battle Creek Road Runners and Holland Area Runners receive a $5 discount with your membership ID number.
Registration fee includes - Registration, "technical" race shirt, zoo pass for the day, and first beer free at the Beverage Sponsor station for adults over 21 years of age.
Age Categories
14 years & younger, 15-19 years, 20-29 years, 30-39 years, 40-49 years, 50-59 years, 60-69 years, 70 years & older
Awards and Results
Prizes for the Gazelle Gallop and Sloth Walk will be awarded to: 1) Top Overall Male, 2) Top Overall Female, 3) Top Master Male & Female, 4) Top Three Males and Females per Age Category. Top overall male and female master excluded from age category awards. Results will be posted following the completion of each event on site and later in the day at www.macssportstiming.com. Results can also be accessed on the Monday following the race at www.binderparkzoo.org/5k.
Event Timing
Gazelle Gallop and Sloth Walk timing provided by Mac's Sports Timing. Go to www.macssportstiming.com for results.
Donations
Please go the extra mile and make a donation while registering to help support Binder Park Zoo cheetah conservation programs. Your extra effort could earn you the Zookeeper For a Day experience! (*Participation in fund raising is not required, but greatly appreciated.)
June 21: Predator vs Prey- Cheetah Chase Addition (Wild Africa)
This special overnight experience is open to Cheetah Chase participants and their cheering section. Eat a spaghetti dinner, explore the zoo at night, and wake up to morning yoga before heading down to the starting line.
One valid Cheetah Chase confirmation number is required to register for this Slumber Party date.
Price: 
$240 for up to 4 people and $50 per extra person for up to 8 people total in each tent. Members receive 10% off.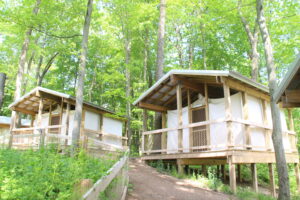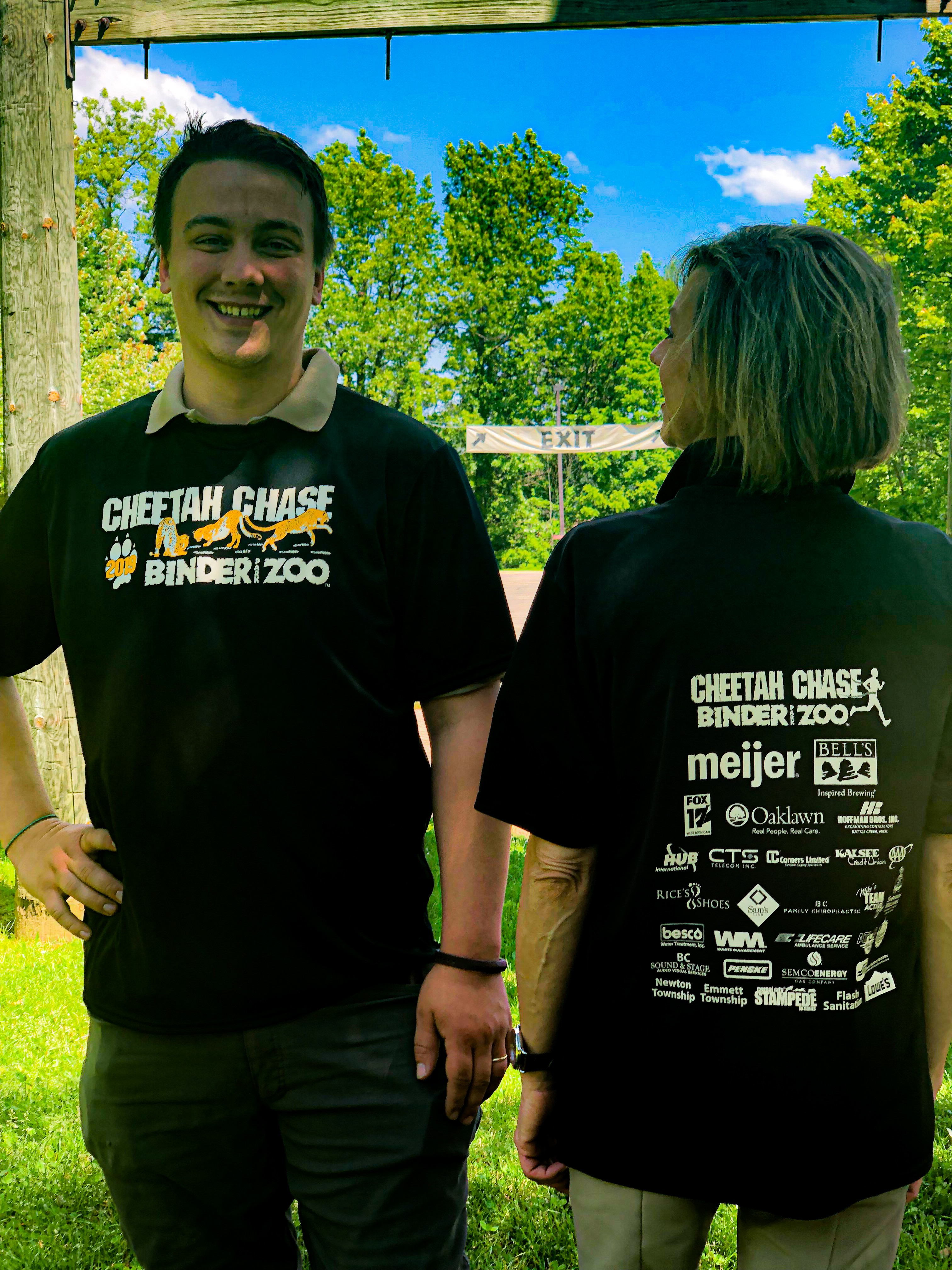 Binder Park Zoo is located 3 miles south of I-94 exit 100