Binder Park Zoo is dedicated to providing a safe and immersive learning environment where campers will have opportunities to shape and expand their knowledge of animals and nature. Each camp week includes fun activities, take-home crafts, animal lessons, and zoo tours. Your child will be so busy exploring they won't even realize they're learning!
Who: Children entering grades 1st-7th
When: Monday-Friday 9:00am to 4:00pm
Where: Binder Park Zoo
Cost: $220 per camper per week
Important Information
Please Read
Parents/guardians must register their own children to participate in Summer Day Camp.
Registrations will be accepted by mail or online only.
Registrations are processed first come, first served. If a camp is full upon receiving your registration, we will contact you about a refund or enrolling into another open week.
Registration closes seven days before a camp starts. All fees, release forms, and immunization records are due at that time. Paperwork will not be accepted at the camp; if your child's paperwork is not received on time, your registration will be cancelled without refund.
Once the registration is processed, you will receive a confirmation email containing information about the selected camp week(s). Please give us your best email address so you don't miss important camp updates.
Cancellations received at least five business days prior will be refunded or transferred ONLY if the cancelled space has been filled before the camp starts; a $25 processing fee will apply.
Cancellations received zero to four business days prior will not be refunded or transferred.
Full refunds or transfers will only be issued if Binder Park Zoo cancels a camp due to extenuating circumstances or low enrollment.
We reserve the right to dismiss campers at any time, without refund, from one or more scheduled camp weeks for any violation of stated camp policies.
There are no refunds for incomplete registrations or missed days due to illness, appointments, family emergencies, dismissals, or other reasons.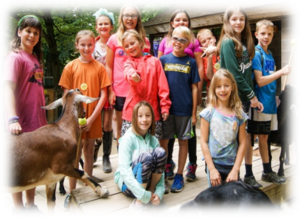 Each week, campers will experience a few close encounters with the zoo's animal ambassadors.
There will be educational lessons with animals inside the camp rooms as well as the chance to feed the giraffe and goats on exhibit!
All animal lessons and close encounters are offered by trained staff members. Campers will not be permitted to hold animals.
Camp Size:
Each week, there are 48 available spaces for pre-registered campers entering grades 1st-7th. We will group campers into two age-appropriate learning environments, typically 6-8 years and 9-12 years. We cannot guarantee placement of campers in a particular group. All ages report to the same location for drop-off/pick-up and will share certain activities during the week. Camp weeks not meeting the minimum enrollment requirements will be cancelled at least one week in advance. See Cancellation Policy.
Staff Information:
We staff up to four experienced adults per week, who will have extra help as needed. Our child-to-adult ratio is 12:1. Our staff are all background checked, CPR/First Aid certified, and trained to deliver educational programming at the zoo. Additionally, the camp manager will monitor all camp activity.
Age Requirements:
Campers must be at least 6 years old at the time of camp or entering 1st grade in the fall. Once a child reaches 13 years, we refer them to the Zoo Teens program. Click here to learn more about Zoo Teens. The level of activity or social environments experienced at camp can be difficult to maneuver for children younger than 6 or older than 12.
Camp Rules and Camper Expectations:
Show respect and kindness to everyone: humans, animals, and plants.
Stay with your camp group at all times and use the buddy system.
Keep hands and feet to yourself, even if playing with a friend.
Use quiet voices inside and outside, especially when you are near animals.
Keep track of your belongings and place trash in the right place. No food sharing.
Quiet down to zero volume when adults are speaking, listen for directions, and raise hands to talk.
Camper Requirements:
Be predominantly independent; eat, toilet, dress, and carry their belongings.
Be able to verbally communicate their needs or concerns to the camp staff.
Participate in camp activities peacefully with other children close to their age.
Follow directions and make good choices pertaining to their surroundings in a group setting.
Bathroom Policy:
All campers must be fully toilet-trained and completely independent when using the restroom or come to camp with an aide. Bathroom and water breaks are taken frequently throughout the day. Our policy is to guide the campers to the bathrooms and wait for them outside, keeping vocal contact with the camper. Many of our bathrooms are public, and we cannot empty out the bathrooms for our groups. If your child has a bathroom accident, we will ask if they've brought a change of clothes, or we may call you to provide one.
Camp staff are concerned for the safety and wellbeing of every camper. Each day that rules are followed, we will offer positive reinforcement rewards at pick-up; this helps encourage good behavior and gives parents/guardians a front row seat to their child's overall camp experience.
In the event disruptive behaviors occur (i.e., running, yelling, throwing things, not listening, etc.), camp staff may use the following methods and inform the parent/guardian at pick-up: verbal reminder of rules and expectations or a supervised break from activity with camp management.
Repeat disruptions without improvement will require guidance from the parent/guardian in order to find a solution to the problem. Camp management will contact you by phone or at pick-up to discuss the appropriate method. You may also be asked to send an aide who can supervise your child for the remainder of the week. See the Special Considerations section for more information.
Campers who exhibit inappropriate behavior, unsafe actions, or repeatedly disrupt the camp will be dismissed. We have a zero tolerance policy when situations like hitting, kicking, bullying, violent outbursts, or disagreements pose a threat towards oneself, other campers, zoo staff, or resident animals. Binder Park Zoo reserves the right to refuse enrollment to anyone or dismiss, without refund, any camper for behavior related issues. See the Camper Requirements section for more information.
Accessibility:
Summer Day Camp is inclusive and affirming; our lessons and activities are age-appropriate and designed for multiple learning styles. We are able to modify some of the activities as needed. Binder Park Zoo is wheelchair accessible and provides tools and resources to those with environmental sensitivities. Please communicate the needs of your child to us prior to camp so we may assist you.
Special Needs and Adult Aides:
Campers of all ability levels are welcome to attend Summer Day Camp. Please let us know if your child has any needs that we should be aware of. We will work with you to make reasonable accommodations. We are not able to provide one-on-one assistance for campers during camps. You may be asked to secure an adult chaperone or aide to assist them for the week free of charge. Please contact us with the aide's information prior to the camp start date.
Allergies:
We do our best to accommodate the needs of campers with allergies. Sharing food at camp is not allowed; if your child has any allergies, please communicate them to us and feel free to send extra food/snacks as you see fit. Campers carrying an EpiPen must also be communicated so we can alert camp staff. Our staff are trained to administer EpiPens through the American Heart Association.
Parents:
Parents and guardians are required to check campers in and out each day plus inform us during registration of other adults approved to pick up.
Extended Care:
Due to limited space and staffing, we will not be offering before- or aftercare this summer.
Hand sanitizer and face mask

Campers should bring their own hand sanitizer and must have a mask each day to wear in case instructed in certain animal areas of the zoo.

Sunscreen and bug spray

Please apply or send sunscreen and bug spray for your child; the zoo is heavily wooded, and we will be outside most of the day. These items should be packed in a backpack and only used outside as instructed.

Appropriate clothing

Please have your child dress for the weather and wear comfortable walking shoes: no flip-flops. Sending a small jacket, a hat, and a change of clothing is suggested. Some mornings are chilly, and campers may get dirty or wet throughout the day.

Reusable water bottle

Please send a reusable water bottle each day of camp; we encourage campers to stay hydrated while using ecofriendly options. We have limited extras for those who forget their water bottle.

Medications

You may send OTC or other medications and EpiPens to camp with your child; these must be listed on the medical treatment release during registration. Staff are certified to administer EpiPens through the American Heart Association.

Lunches and snacks

Please send a sack lunch with your camper Monday-Thursday. We will provide cheese and pepperoni pizza for lunch on Fridays as a special treat included in the cost of the camp. We will offer two snacks each day. We may serve granola bars, Rice Krispie treats, chips, goldfish, buttered popcorn, etc. Please send extra snack items as you see fit and inform us of any allergies ahead of time.
8:50 - 9:00 - Drop off
9:10 - 9:30 - Review camper expectation, Icebreaker games, Animal Yoga & Meditation 
9:30 - 10:45 -

One of the following tour areas each day:

East Zoo, Wild Africa, or Nature trail walk 
10:45 - 11:00 - Snack and Storytime 
11:00 - 12:30 -

Camp Activities:

Arts & Crafts, Topic specific learning games & activities, hands-on Nature discovery, additional tour time
12:30 - 1:00 - Lunch 
1:00 - 2:30 -

Camp Activities:

Animal Expert Lesson with Camp Staff, Animal feeding or enrichment, Zookeeper chat
2:30 - 2:45 - Snack and Storytime
2:45 - 3:15 -

Camp Activities:

Behind the Scenes Tour, Train or Carousel Ride 
3:15 - 3:50 - Team games and sprinkler play 
3:50 - 4:00 - Pick up 
Notes: 
The daily schedule is similar to what campers will experience on different days throughout the week.
Camp activities are subject to change at any time. 
Bathroom breaks are not scheduled, though they will be offered routinely and as needed each day. 
Illness:
When a child does not feel well at camp, we will provide a quiet space for them to rest. If they do not feel better after resting or show outward signs of illness, camp management will contact parents or guardians to pick them up as soon as possible. Before returning to camp, please make sure your child tests negative for COVID-19 and is free of symptoms of illness. Campers who have symptoms or test positive for COVID-19 should: not attend camp, observe the state recommended guidelines for quarantine, and mask before returning to camp. Please see the Cancellation Policy for more information.
Injuries:
Campers often participate in running games throughout their session, and while they are supervised, we cannot always prevent the occasional trip or stumble. If your child gets a minor injury, we will apply First Aid (typically a Band-Aid and an ice pack). If your child needs a little time to rest, we will provide them with a quiet, safe space. Parents and guardians will be notified by camp staff during check-out of all minor injuries. Please see Emergency Procedures for information about serious injuries.
Emergency Contact:
Please make sure we have the best phone number and email on file to reach you and anyone else who will be responsible for your child during the week. We may call phone numbers in the case of emergency or behavioral issues; we will communicate important group updates to you through email.
Medical Emergency:
Camp staff will immediately call emergency services and the contact phone numbers provided during registration for all medical emergencies during camp. Camp staff are certified in First Aid and CPR procedures through the American Heart Association. Please make us aware of all related allergies and any medications that your camper may bring to camp, including EpiPens and OTC medications.
Emergency Plans:
Binder Park Zoo employees actively participate in periodic training drills related to the potential for emergency situations.
Gear Package* + T-Shirt*: $35 each
*Items are available while supplies last.
Includes drawstring pack, T-shirt, collapsible water bottle, bug repellent wipes, and select animal plush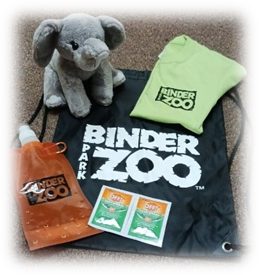 T-Shirt* Only: $15 each

*Items are available while supplies last.
Sizes:
Youth Small (6/8)
Youth Medium (10/12)
Youth Large (14/16)
Adult Small
Adult Medium
Adult Large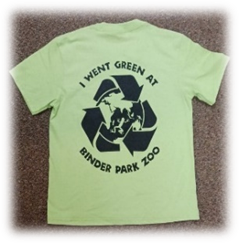 Camp Topics and Dates
Click topic to register
Are you going to eat that? Campers will enjoy learning about food chains, predator vs. prey relationships, and how the zoo uses enrichment to keep animals mentally and physically healthy.
Registration for Feeding Frenzy is full.
There will be no camp this week in observation of Independence Day.
The night comes to life after we turn out our lights! Campers will enjoy meeting and learning about nocturnal animals as we expose the many ways they survive in the dark.
Registration for Creatures of the Night is full.
Do you have what it takes to be a zookeeper? Campers will enjoy learning about all the different jobs our animal care teams do to keep the zoo residents safe and cared for every day of the year.
Registration for Zookeeper Boot Camp is Full