Dear Friends,
You may be expecting to read about how difficult the 2020
zoo season was, how much we struggled or how much revenue was lost, but that is
yesterday's news. We are moving on to what is next—and it is exciting! As we begin to look towards
the future, the zoo is buzzing with hope and possibility, and we want you along for the ride.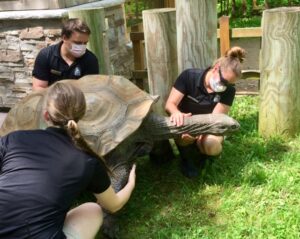 The pandemic has changed our world, it has forced us to change our routines, how we enjoy activities,
how we visit with each other, and it has changed the zoo, too. Our operations underwent a dramatic change this summer. We opened late, suspended the education programs, had limited restaurant and gift shop access, and canceled every event. However, while it was hard, we found that we could still provide guests with an excellent, thrilling zoo experience, which is precisely what we did, every single day until we closed in October. People love the zoo, and they love connecting with animals and nature. That connection is what remains when everything else falls away—the common thread in everything we do at the zoo.
Conservation is not just our mission, it is our passion, and it is evident that it is yours, too. Finding new ways to connect people with nature is at the heart of our plans moving forward because we see the positive impact our efforts have on kids and families.
Upon learning that our education programs were to be indefinitely suspended, one of our zoo
educators sent me an email. Below is an excerpt that perfectly distills the impact we make:
…Our mission statement is: Connect. Inspire. Conserve. Connect people with nature. Inspire them to conserve.
When our Education Department uses animal ambassadors, it can successfully follow the mission statement.
We connect people with nature when they see our animal ambassadors up close. We inspire them to conserve when they learn about them.
I have many examples, but my favorite comes from an overnight I did. When I used our Dumeril's Ground Boa,
"Monty," there was a little girl, who was visibly terrified. I said, "When you are scared of an animal, the best thing you can do is learn about the animal. When you learn about the animal, one of two things happen. Either you understand the snake more which protects you, or you realize the animal is not so bad after all." I said his name is Monty, I think an animal is less scary if he or she has a name. She was worried about seeing a big snake like that in her backyard, but I made her feel better when I explained this kind of snake lives in Madagascar, which is far away. She was worried about him being venomous, but he is not.
She was worried about him biting, while it is true that any animal with a mouth can bite, I am trained to handle him so that he will not bite anyone. I watch his body language and always keep his head away from guests. When a snake bites, it is because they feel scared or threatened. They are trying to protect themselves. They would much rather slither away from us. When she knew the reasons why he would bite and knew that I was trained to prevent him from biting her, she felt better. "Monty" and most other snakes skin feels like corn on the cob, which is a familiar feel.
By the end of the presentation, that little girl physically touched Monty. She went from being visibly terrified to
touching him. We connected her with nature when we showed her a snake and allowed her to touch the snake.
We inspired her to conserve because she learned about the snake, was no longer terrified, and would be less likely
to kill a snake in the future. That is why I love this job!
Reimagine. Reinvent. Redefine.
The future belongs to us, and as those words suggest—it is a future full of excitement, hope
and possibility! The time is now to build the foundation for the next generation of zoo programs
and experiences, but we need your help to do it.
With your support, we are looking ahead to 2021 and beyond to create the next generation of zoo
education programs and experiences. We are building that foundation now. We are successfully testing a pilot program for small groups that combines conservation education with animal encounters for multiple ages. We are exploring innovative alternatives to traditional traveling exhibits that will increase our impact. We are designing creative behind-the-scenes tours, and we are leveraging our technology improvements too—things that will not only replace our lost revenue-generators but also reach greater levels than before. Please, be our partner, and we will reimagine, reinvent and redefine the Binder Park Zoo experience together! 
Your generous donation will put us firmly on track to continue our important work of connecting people with nature and inspiring them to conserve. Binder Park Zoo has a history of thinking ahead of the curve. Every problem or challenge provides a gateway for a new opportunity. We are ready to seize the moment, create dynamic education programs, experiences, and opportunities to learn about conservation.
Thank you! Thank you to our community, our donors, and those who came out to support the zoo this
season. Many of you reached out throughout the season to let us know that you cared and offered help where needed. It is safe to say 2020 was a challenging year. It is a privilege to report to you that we saw the goodness of people every day, and we continue to see it in our community of friends who love and support the zoo.
Sincerely, 
Diane Thompson
President & CEO
Sincerely, 

Kurt Sherwood
Chair, Board of Directors