No 2 visits are the same at Binder Park Zoo and the ingredients that make up your exciting zoo adventure may be different each time you visit. What will you see, experience and do when you are at the zoo? One thing for sure, it's always an adventure waiting to unfold…

As you might imagine, no 2 days are the same when you work at the zoo either! The job of caring for 200+ animals and maintaining 433 acres of zoo has its own unique blend of challenges, opportunities, privileges and needs, every day.

The perfect recipe for running the zoo begins with a quantity of hard-working people who share a passion for animals and conservation. Add in equal parts of teamwork and trust, heaps of integrity and mix with liberal amounts of creativity and innovation. But, quite often the missing ingredient to success is the dollar amount between the revenue the zoo brings in each season and what it costs to run the zoo. YOU can help provide that missing ingredient with a gift to our Annual Appeal. We know from your past generosity that you love animals and care about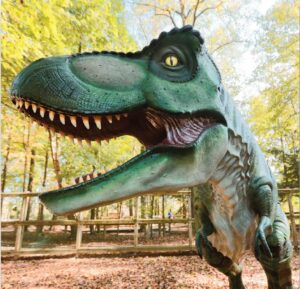 the zoo and we thank you so much! Can we ask you to give again this season? Your gift will be the missing ingredient we need. Your donation is tax-deductible and might also be matched by your employer.
Despite the continued challenges of 2021, we made great strides this season. We opened a new exhibit, the Dr. Edward & Dr. Pamela Buitendorp-Drew Wolf Den – home to our endangered Mexican wolves. The much-anticipated Zoorassic Park opened to the delight of dinosaur fans who came from everywhere to see it. We brought back a fundraising event and made much-needed facility upgrades like repaving the entrance boulevard. We dotted the zoo landscape with brightly colored butterfly benches that made everyone smile.
From Accounting to Zookeeping and everyone in between, zoo staff give their ALL every day at the zoo. They do it for the animals, for conservation, and for the pride of our community, too. The gift you give today makes you our partner and helps guarantee the success of this work – isn't that a great feeling?
You make a difference each time you visit the zoo, but you REALLY make a difference when you donate to the zoo! Please give to our Annual Appeal to support our mission to Connect. Inspire. Conserve. Connect people to nature and inspire them to conserve, and our vision of turning apathy into empathy and compassion into action. Thank you.
Your friends in conservation, 

Dr. Theodore W. Sanders, Jr.
Board of Directors, Chair
Diane Thompson
President & CEO
P.S. Remember that Binder Park Zoo is a 501(c)(3) nonprofit organization that does not receive tax funding. Thank you in advance for the great impact your gift will make!