ADULT VOLUNTEERS
If you are at least 18 years of age, like working with people and nature then becoming an adult volunteer at Binder Park Zoo might be just the thing for you.
Volunteer application and criminal history background are required.  For more information, please call (269) 979-1351 or email volunteer@binderparkzoo.org.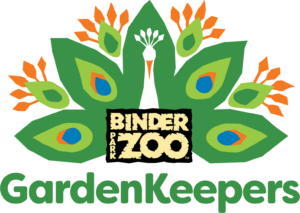 Become a GardenKeeper and make the zoo BLOOM!
Binder Park Zoo's GardenKeeper program aims to create beautiful garden spaces that everyone will enjoy at the zoo. It's a fun and satisfying experience for volunteers of all ages and a way to encourage everyone to Connect. Inspire. Conserve.
Whether you are a novice or a master gardener, individuals and groups are invited to become GardenKeepers at Binder Park Zoo! Gardeners are responsible for providing their own plant materials, and for maintaining their gardens throughout the season.
Ready to get your hands dirty? Submit the GardenKeeper form! For more information on becoming a GardenKeeper, email volunteer@binderparkzoo.org for more information.
VOLUNTEER GROUPS
If you have an organized group that is looking for a volunteer activity, please contact our zoo office, or email volunteer@binderparkzoo.org for more specific information.
Equal Opportunity Organization
Binder Park Zoological Society, Inc. offers employment opportunities, education programs, and services without regard to race, color, religion, national origin, disability, age, height, weight, marital status, gender, sexual orientation, or gender identity.